TOUR OF THE IMPERIAL PALACE GROUNDS
Principal buildings of the Imperial Palace can be seen during the tour.
The tours are generally conducted on weekdays two times a day at 10 a.m. and 1:30 p.m. and English Audio Guide is available. Those wishing to join the tour must register for admittance at the office. Information is available from the information office of the maintenance division of the Imperial Household Agency 03-3213-1111.

Due to the spread of corona virus infection, numbers of visitors have been limited to 120 (prior application 50 and the same-day registration 70) both in the morning and in the afternoon from September 29, 2020. Visitors are required to wear face masks, sanitation of hands and temperature chcking.

Visitor Information

Imperial Palace Same-day Registration in addition to the existing prior application system starts from June 25


Same-day Registration starts on Saturday, 25 June 2016. In addition to the existing prior application system (online, via telephone and over the counter), same-day registration (on first come first served basis) to the guided tour to the Imperial Palace starts on Saturday, 25 June 2016. The details will be shown on the top page of the Imperial Household Agencyfs website.

Applications for tours of visiting the Imperial Palace
Numbers of applicants: maximum of 300 persons
Qualification: Above 18 years old/ Minors under 18 years old must be accompanied by an adult 20 years and above
Tour's Day: Every day from Monday through Friday (except national holidays and from December 28 to January 4 and due to court functions)
Applications: Reservations for tour of the Imperial Palace can be made by telephone and applying for the permission is necessary. Applications are accepted from Monday to Friday. 8:45 a.m. to noon and from 1 p.m. to 5 p.m. (Office is closed on Saturday and Sunday, national holidays and from Dec. 29 to Jan. 3). For applications to visit the Palace, please bring your passport or form of identification through the Sakashita-mon Gate.
Reception Period: Applications for tours are accepted from the first day of one month prior to the tour date. Application by direct to the office, post ... 7 days before the date of tour. Application by Internet ... 4 days before the date of tour in cace of full booking, your application will not be accepted.
Reception Office: Imperial Palce Tour Office 1-1 Chiyoda, Chiyoda-ku, Tokyo 100-8111, JAPAN
Telephone: 03-3213-1111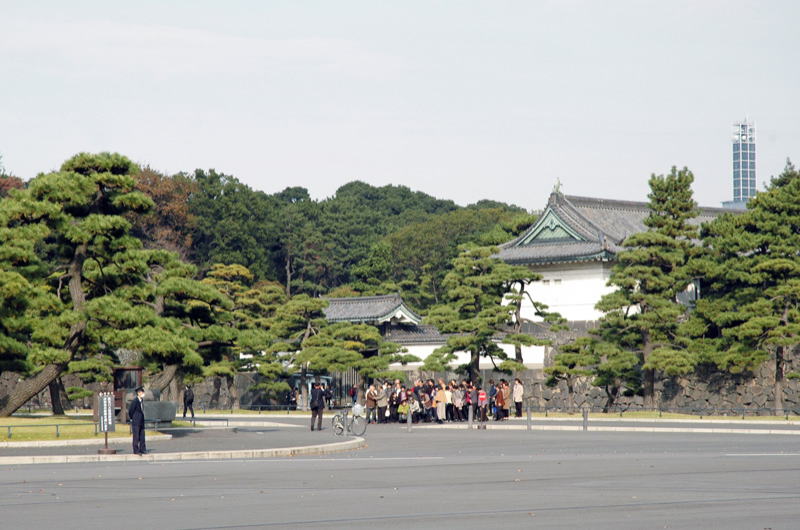 People take commemorative photos in front of the Kikyo Mon Gate where the tour starts.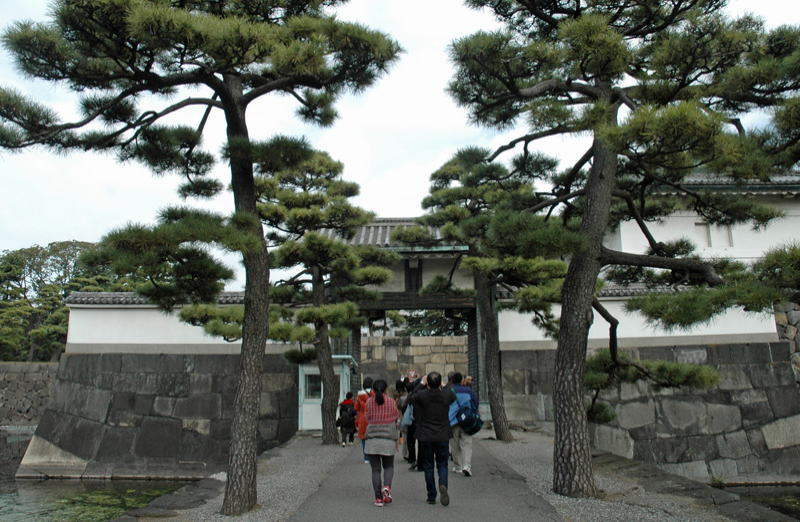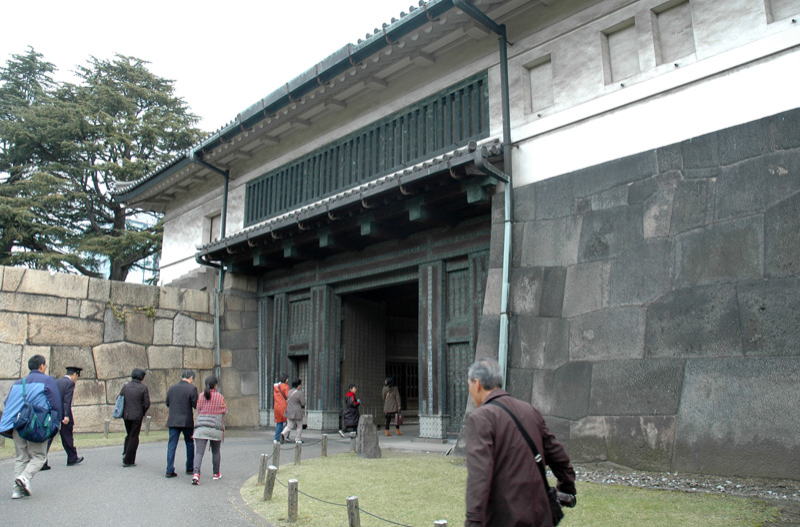 ---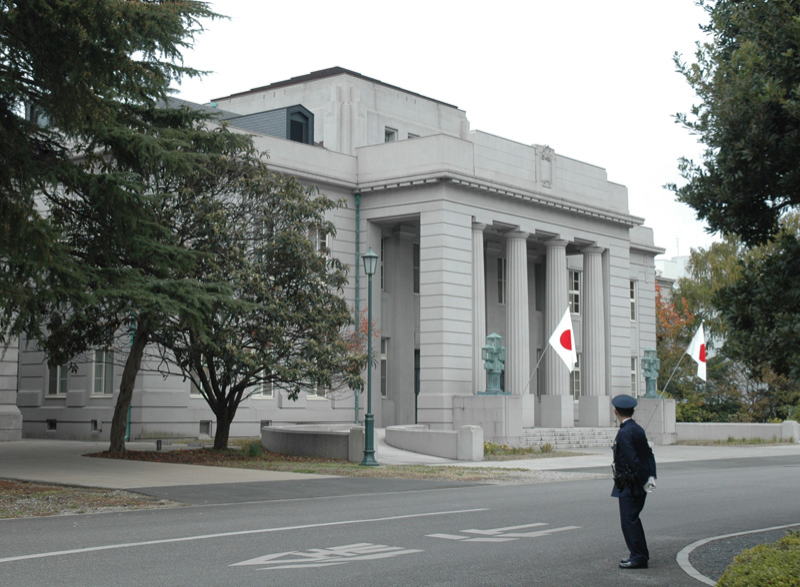 Former The Privy Council Building

---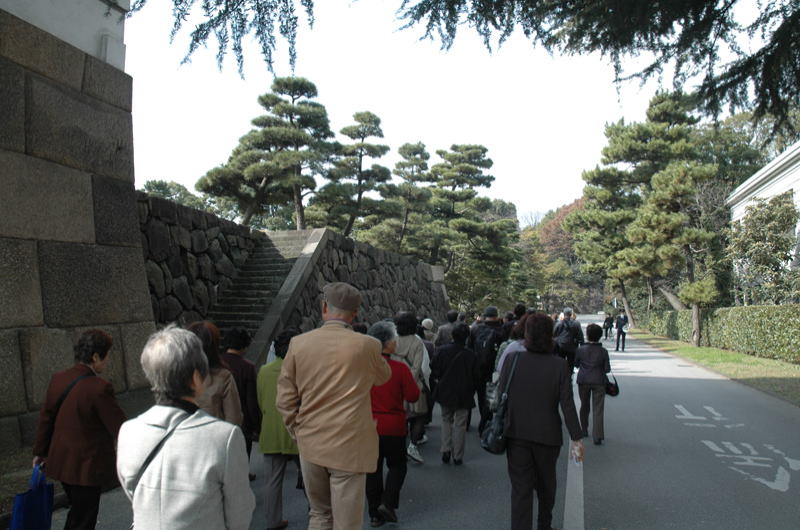 ---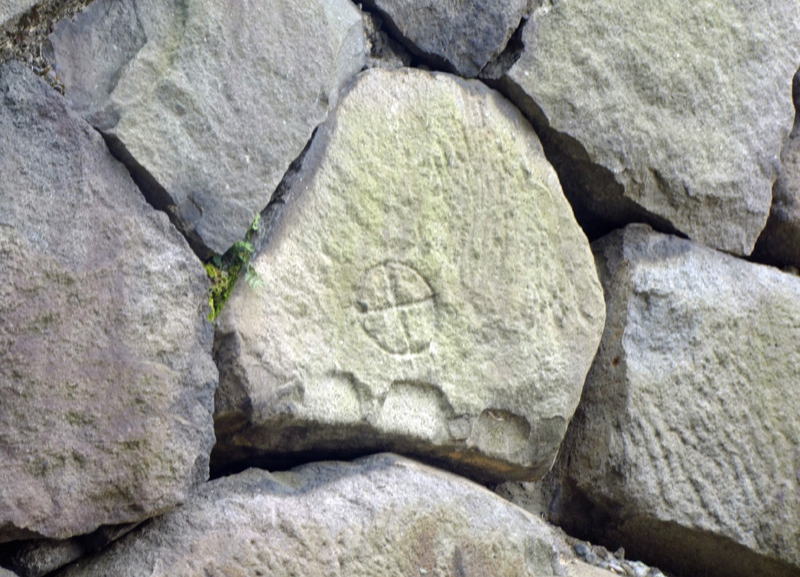 The crest of the daimyo (Satsuma of Kagoshima) is inscribed on a stone of the wall.
---

Fujimi Yagura (Mt. Fuji View Tower)
The three storied keep, reconstructed in 1659, was watch tower, and is one of the oldest of Edo Castle. The rampart is about 14.5 meters in height and the keep itself is some 15.5 meters high.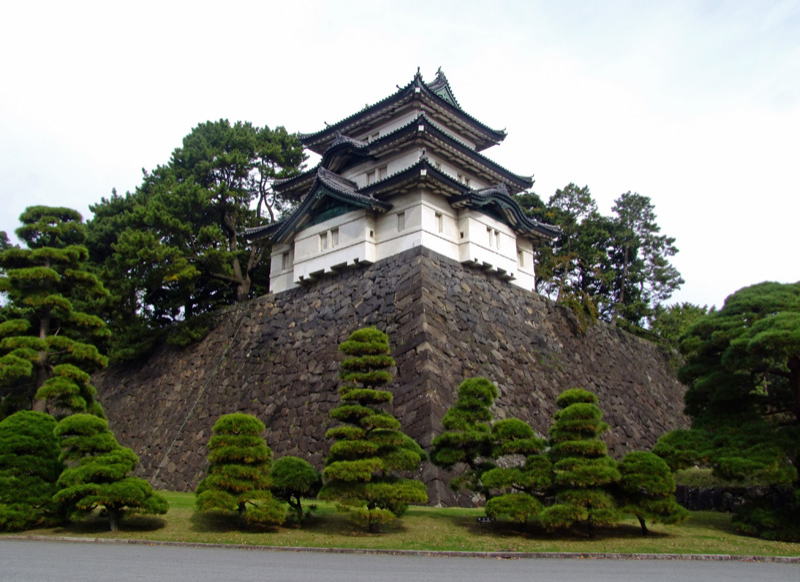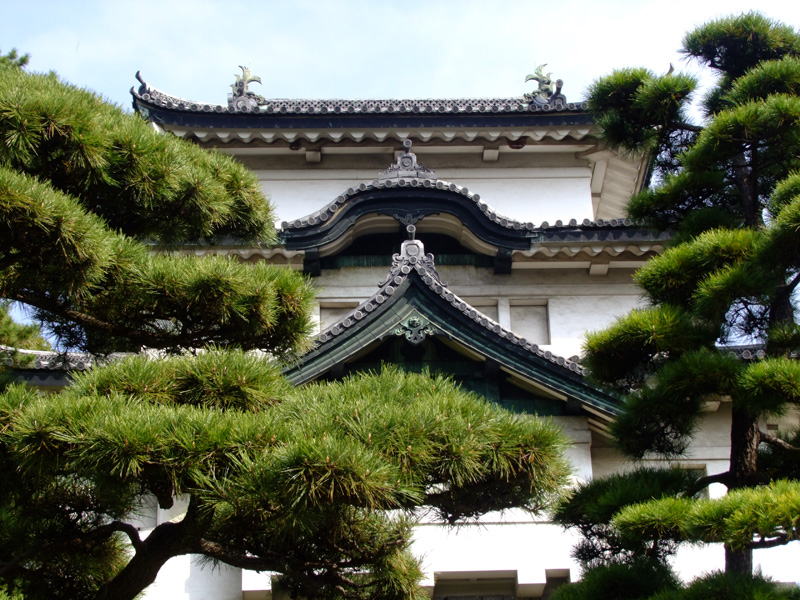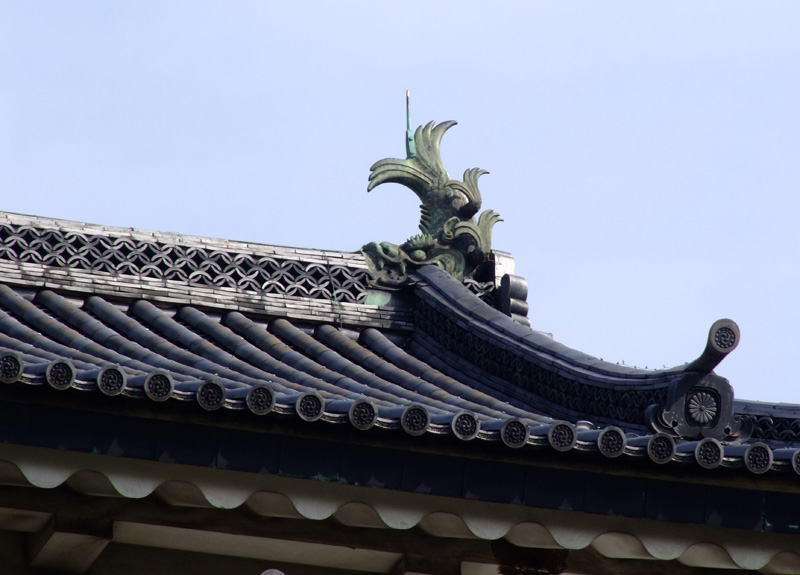 ---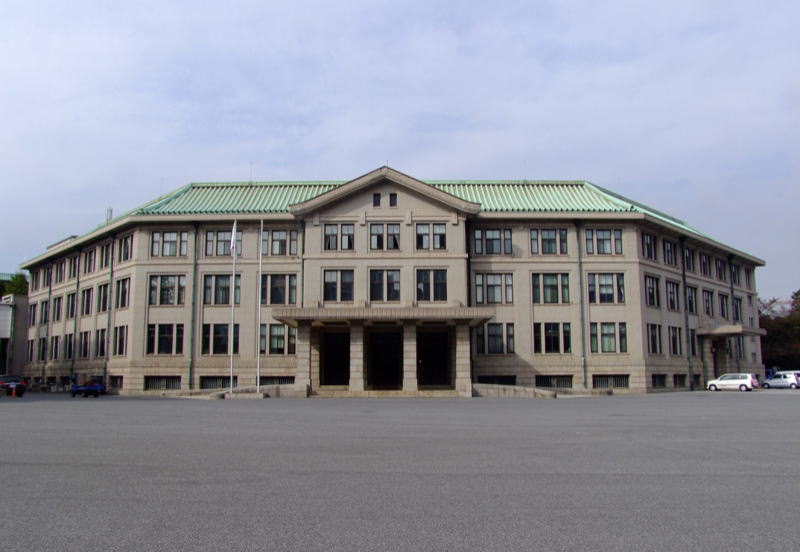 Imeprial Household Agency

This building is the head office of the Imperial Household and was constructed in 1935. The third floor of the building was used as the temporary Imperial Palace for some years after World War II until the new Imperical Palace was built.
---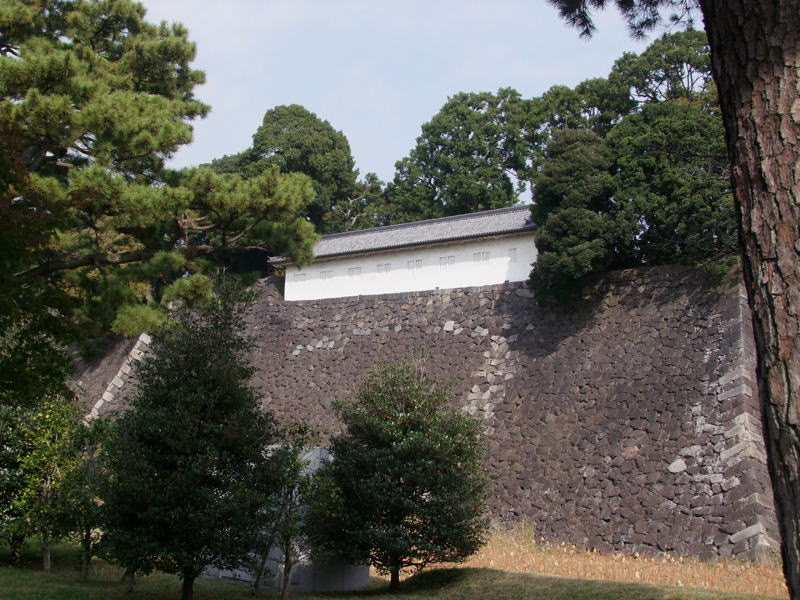 Fujimi Tamon Defence House

Fujimi-tamon (defense house) on top of the rampart is a type of donjon built for both defense and decorative purposes. It was also used as a repository and armory.
---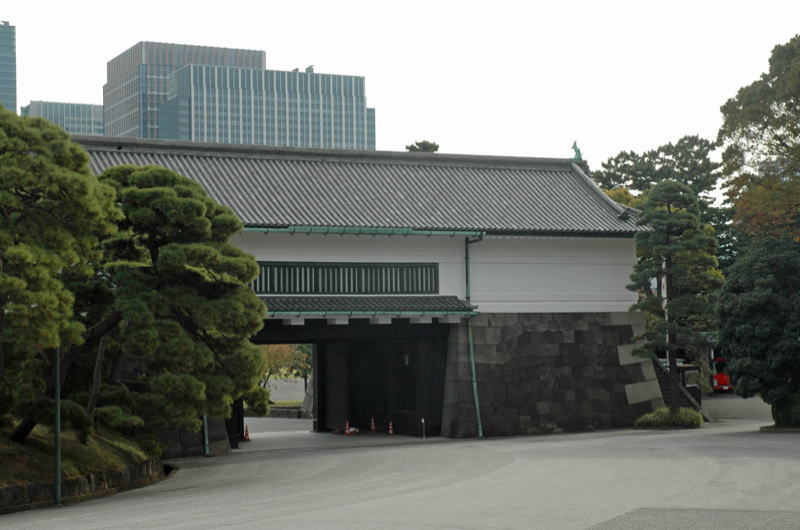 Sakashitamon Gate viewed from inside the Imperial Palace
---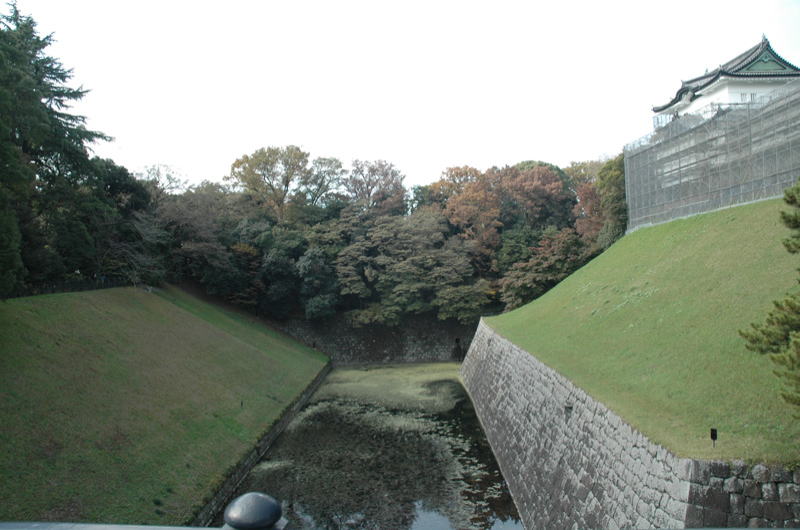 Fushimi Yagura on the right is under repair construction as of November 2014
---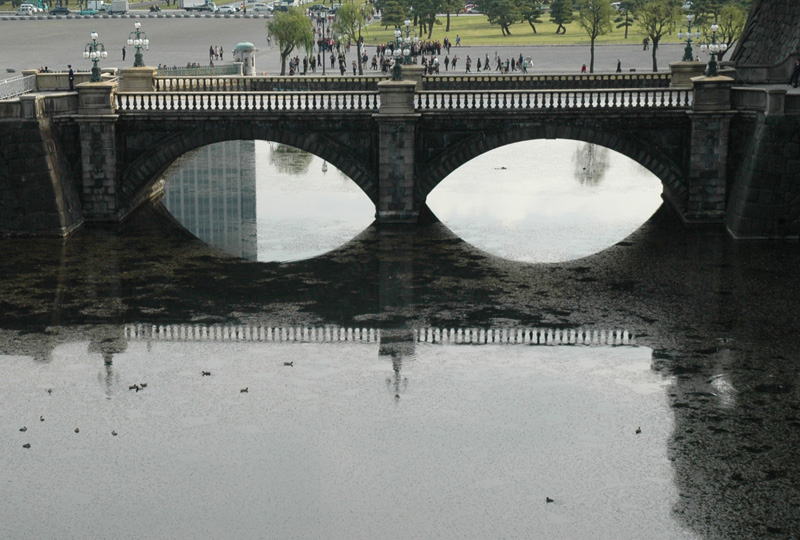 Nijubashi Bridge viewed from inside the Imperial Palace
---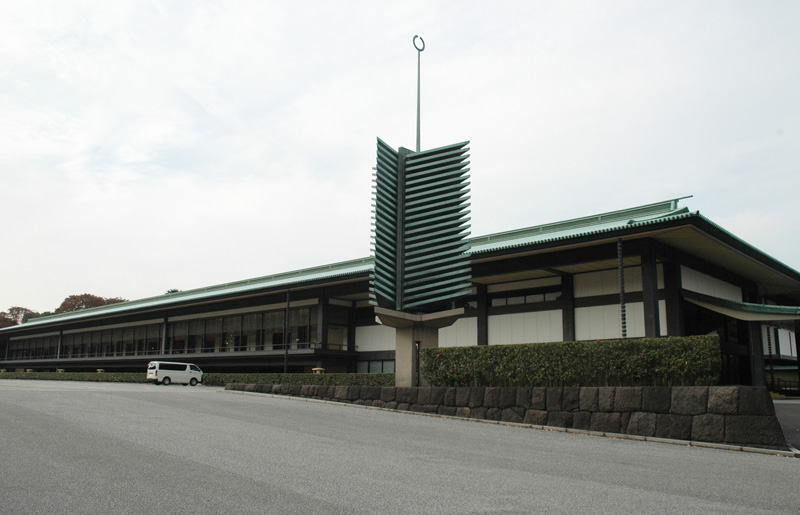 Chowaden Hall of the Imperial Palace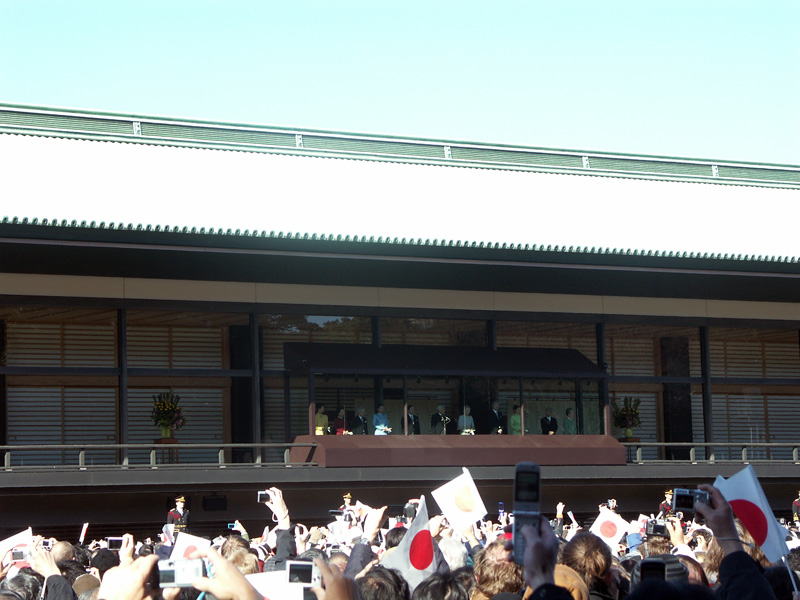 The Royal Family greet well-wishers from the Chowaden Hall at Ippan Sanga on January 2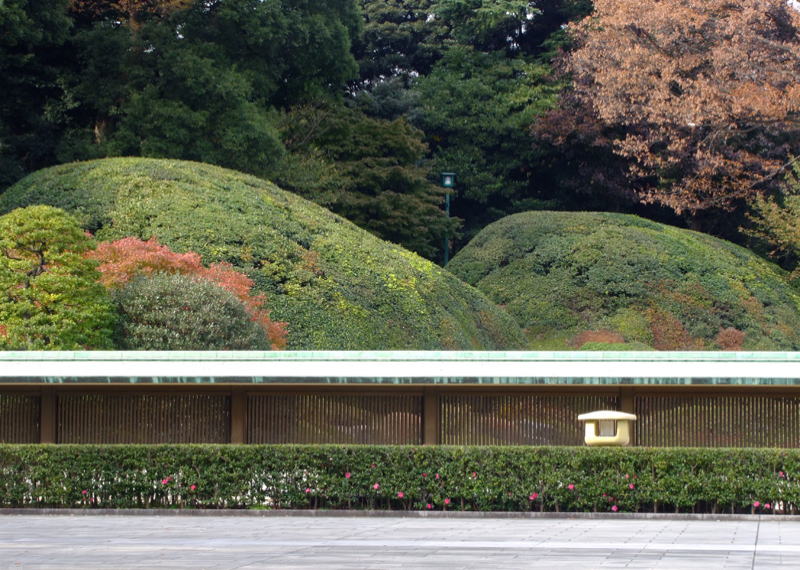 ---